January 12, Friday: Wanted to meet the framers, so I came early and dropped off some coffee and donuts. Don, the framing crew chief, to his credit, could not have his crew drop everything and entertain the buyer. There were 8 guys on his crew that day, 5 white guys and 3 hispanics. I talked to one of the hispanics and he exchanged pleasantries. He asked me if this was my house and I replied, yes.
As Don and I talked after a bit (he on the rear patio roof), he asked if they could do anything to fix any problems that I had seen. Since he asked, I brought up the master bedroom window that was missing. I told him it was in the mode, but not in my build. We looked at the full size plans in his truck and no window is shown. Last night, I verified that it was not an option in the pricing sheets as well. It is not shown in the tiny 8.5×11 copy they gave me too. After discussion, he said that he would fix anything as long as Craig Neubaur gave the go-ahead. He, Don suggested though that the east facing window would be a pain in the summer and that his personal opinion was that it was best not added. Furthermore, he mentioned that his team had raised the master bath window just a bit. As spec'd, the shower head would hit the window and with the hard water there, best to avoid that issue entirely. He asked that we keep that change between us.
Don asked me if the kitchen counter was to be 2-tiered or all one level. As built so far, it was 2-tiered for bar stool seating. I told him that we spec'd it out as Sandy wanted one level. Don said that they would fix that today! (mistake #2)
After calling Sandy, we both agreed that we would leave the missing windows as is. I called Tim, mentioned the missing window. He mentioned that there are some things in the models that are not priced out in the house building option sheet, this was one of those items. I asked if there was anything else that we would not be getting as-built in the model home.  We explored that some more and he suggested that we walk the house to ensure that everything we ordered/requested/paid for was to be included. We walked the model about and our build about 10:30 am, and everything we spec'd is included to my satisfaction.
The sheeting process is going fast. I stopped by in the afternoon about 3:15 expecting the framing crew to be gone. The 3 hispanics were still there, no white guys around. The 3 guys were working on the transition from the garage roofline to the house roofline. They do good work.
The house should be fully framed by Tuesday-Wednesday ready for the HVAC, plumbing and electrical guys late next week. Brookfield will be asking us at that time to come and walk the build before drywall begins to cover up the walls.
January 11, Thursday: The framing process is going fast.  I stopped by in the afternoon and took some pictures. See the Smugmug gallery dated January 11. Tim had me sign an addendum that we had signed before in September. Some one lost it I guess, but we had a copy. I signed it again.
There is no east-facing window in the master bedroom, I noticed (oh, oh, mistake #1).
I asked Tim when the crews work, he mentioned their hours are 7am to 3pm.
As I was leaving, I stopped by Lot 5 and introduced myself to George and Sherry Royal. Their home is about 2 weeks ahead of our build. We compared notes and 'issues' with Craig Neubaur. They have had a more rough time with him than we have so far. Probably, because we haven't had any changes or mistakes … yet.
January 6, Saturday: Pictures arrived from Tim, we have walls beginning. The Smugmug photos have walls beginning, this with 2 days work and a crew of about 6 folks. Progress continues! I was hoping to come out to see the first 2×4, 2×6 being laid, but oh well. I'll take the quick progress.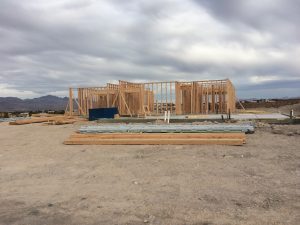 I hope to come out on Thursday to see for my self!
December 28, Thursday: Took pictures of the final pouring complete. Now the foundation cures for 2 weeks or so, lumber will be delivered soon and the walls begin to take shape!
We compared the house foundation to that of the mode homes, including the Yosemite model. We are coming up with some landscaping ideas and a small list of our "change order" as the build is progressing. We measured the master bath/shower and it is as requested, we were worried that this would be mistake #3, but all is well!
December 27, Wednesday: The 2nd foundation pour was completed today. I received an email and a photo of the garage portion of the foundation completed and a request from the builder for draw #2 from Audrey Sangerman .  I also had a receipt of the 2nd from the escrow company, a Lauren Diaz. The 2nd draw is for $56123.10.
December 26, Tuesday: Sandy and I came out to see that the first foundation pour was complete, The next pour is to complete the garage, entry way, and front and back patio.
Again, the 3rd car garage and pullthrough had been modified, see the SmugMug pictures, to NOT have the foundation footing, but to make an opening for the two pathways. Some one made a mistake and has NOT acknowledged it.
This is mistake #2, #1 was the 5′ property line adjustment. Do I have to keep watching these guys all the way through this process?
December 21, Thursday: The electrical box is now in, see the pictures on SmugMug. I noticed that the 2 car driveway and the 3rd car driveway and pullthrough did not have the same foundation layout. The 2 car garage did not have a foundation wall pouring (with bolts for the walls) but the 3rd car and pullthrough did. Accidentally, Tim and his wife pulled up as I was taking pictures in the afternoon. I spoke to him about my concern and he was also confused. He took an action to ask the construction office via email.
December 18, Monday: Road trip to see the progress! Plumbing is added in place. I arrived in the afternoon and the workers had already finished. The pictures are now being published on SmugMug so that progress can be shown to family and friends.
Interesting thing to note is that the extension of the property has the northwest rebar marker on the downslope of the northern boundary. The northeast corner is on the edge of the slope with lot 28 to the east.
I stayed until the 21st, Thursday.
Lunch with Tim Koons revealed that it was the foundation builder that noticed that the property was 5′ short in width. As he tried to layout the foundation, it wasn't measuring up correctly per the layout on the property map. He then went back to the construction office and then the error was noticed and has finally been corrected.
December 15, Friday: Tim sent us a picture that ground-breaking and trenching are underway!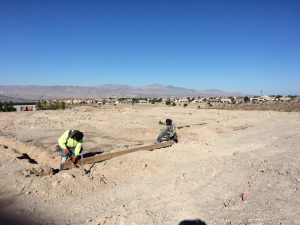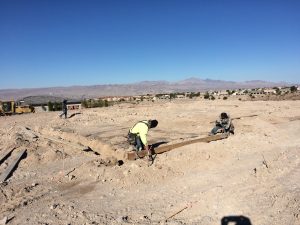 December 13, Wednesday: Talked with Craig P in Phoenix expressing my our concerns about the re-grading and an updated status. He relayed the same story that Tim provided, we are short 5′ of property line. I think Craig P mentioned that we might be trenching real soon and pouring concrete next week (December 18-22). We'll see.
December 12, Tuesday: Text from Tim "Dave, Today I see tractors working on lot 30 next to your lot. They are doing something between your two lots but I can't figure what. Regards." It turned out that lot 29 was too small and lot 30 was too big by 5′ width-wise. The contractor was re-compacting the soil between the 2 lots.
December 8, Friday: Message from Tim. "Dave and Sandy, Weekly update on lot 28 Ridge. Nothing happened this week on the lot. Sorry!" Called Craig Neuebaur after that to find out the status.  Craig stated that the wind was too much (40-50mph) to prevent begin any foundation work and that slab pouring would take place at the beginning of the new year. The week of December 12-15 might be a time for foundation layout.
December 2, Saturday: Tim asked for an update after his return from vacation, we said we had things under control.
November 28, Tuesday: Held phone call with Craig Peterson, Craig Neubaur and Audrey Singerman. Craig P and Audrey are at 602 265-4400. Craig Neubaur at (cell) 928 704-0550 and Michelle, the receptionist at the construction office is 928 715-7863.
Audrey promised to give us photos as each of the draws will be requested as per our plan below:
20% First draw – plans submitted for building permit
15% 2nd draw – foundation completion
20% 3rd draw – framing/roof sheeting completion
15% 4th draw – rough mechanicals completion
20% 5th draw – drywall hung and taped completion
10% 6th and final draw – close of escrow completion
November 24, Friday: Drafted an email to Craig Peterson, inquiring about the progress of our build. Sent it and he returned our email, promising to check on things and get back to us. He called, left a message and promised to address our issues.
November 23, Thursday:  We visually verfied that as of yesterday, November 22, there is no progress on Lot 29. Communication is key to a succesful partnership and so far our communication has been very poor and pretty much one-way from the buyer.
November 16, Thursday: We texted both Tim Koons and Craig Neubaur about progress on Lot 29. Tim responded quickly with a "nothing happened" message. With no communication from Craig, we called Janice Burkey at Pioneer and found out that the first draw had been released on November 7. We had signed the CASH BUY addendum with the DRAW SCHEDULE, but misplaced our copy. I asked Janice if she had a copy and she stated she could not find it in our escrow package, but would, post haste, go find it. She did find it and emailed it to us as well shortly after. We asked if it was normal to disburse funds without a draw schedule and she really didn't have a good answer, other than … the builder asked for it.
November 7,Tuesday:  After prodding from our salesman, Craig finally returned our call. He had agreed to the changes that we proposed (with no feedback to us). He stated that he had submitted our plans to the city on the previous Friday, November 3. He mentioned that it was taking about 3-5 days for the permits to be granted by the City and that he, Craig, would distribute the plans to his subcontractors to begin the building process after approval. This conversation led us to believe that by Monday, November 13, at the latest, we should see dirt starting to move on Lot 29. Craig promised to keep us in-the-loop.
Unbeknownst to us, Pioneer Title released the first 20% draw to Brookfield on November 7. We were not notified by anyone. Supposedly the first draw follows, "First Draw to be released … upon completion of plans drawn in order to prepare … for building permit".
November 6, Sunday: We called Craig Neubaur to get a verbal update. We received his voicemail and left a message.
November 5, Sunday: We emailed Craig Neubaur… "We are Dave and Sandy Esquer purchasing Brookfield Lot 29 at the Ridge with the Yosemite floorpan. We are working with Tim Koons and wired 1/2 of the house dollars (approximately $170,000) to Pioneer Escrow on October 20th. This is an all-cash purchase.
We understood that our signatures on the draftsman drawings (birds-eye and front elevation) were the go-ahead to Brookfield to begin the permit procurring process. That was about 2 weeks ago. We modified (submitted on the front-elevation and birds-eye views), the garage street-facing windows (increasing to 3 or 4) and the elimination of the garage-to-house wall niche cutout.
Questions:
Can we make these 2 changes work?

As soon as we have feedback that the permit is a "go", we are ready to wire the remaining dollars. When might that be?"
We received no answer …
October 20, Friday:  With an all cash build, we wired $170,000 on October 19 to Pioneer Escrow. On October 20, we called Tim Koons to help us finalize the drafting and elevation views. We made 2 final tweaks. These final, agreed-to drawings were, we assumed, the green light to begin the building permit submittal process. We thought we were ready to go.
We had confirmation that approximately $170,000 was wired to Pioneer Title Escrow in Bullhead City. 928-758-4848,  c/o Janice Burkey. We assumed that the plans were being submitted to plan check and in 3-4 days we would be ready to push dirt around.
October 18, Wednesday: The Hiki-Ku house closed this Wednesday.